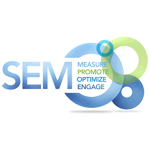 "Search Engine Marketing" was once was used as an umbrella term to encompass both SEO (search engine optimization) and paid search activities. Over time, the industry has adopted the SEM acronym to refer solely to paid search. SEM may incorporate search engine optimization (SEO), which adjusts or rewrites website content and site architecture to achieve a higher ranking in search engine results pages to enhance pay per click (PPC) listings

The concept behind Search Engine Marketing is quite simple: when a consumer or business person searches the Web through either a text box or by clicking through a directory hierarchy, he or she is in "hunt mode." This psychological state is unique because it signals to the search engine (and to marketers) that the person is looking for information, often of a direct or indirect commercial nature.

Marketers understand that this "hunt mode" means that the searcher may very well be at the beginning, middle, or end stages of the buying cycle. When someone is researching a product or service to satisfy an immediate or future need they are in an unusual state: they desire relevant information and are open to digesting and acting on the information at their fingertips, all made possible by a search engine. This makes search engine results some of the best sources of targeted traffic, whether this traffic originates from "organic" unpaid search listings or paid advertising listings.

Many marketers think of search engines as delivering the search results or SERP (Search Engine Results Page) in the form of purely textual results. The truth is that search results can be any mix of text, images, video, audio, or other file formats. In the United States, search engines don't simply include Google, Yahoo and Bing; they also include commerce sites such as eBay and Amazon, as well as specialty search engines such as YouTube and Hulu for video, restaurant search engines, "people" search engines such as LinkedIn, or online business directories for local results, including IYPs (Internet Yellow Pages) and sites such as Yelp, Angie's List, and others.

Many countries have general purpose or specialty search engines launched locally to meet the needs of that countries' population.Plus, new forms of search are also evolving rapidly, including voice search (voice-driven search), as well as search within app environments.

All search engines use algorithms to attempt to provide the most relevant results to each searcher, taking onto account not only the search keywords used but also the searcher's location, device, operating system, previous search behavior, and even identity. The better any specific search algorithm for paid or organic (unpaid) results is, the happier the searcher is with the results. Because search engines compete for the attention, eyeballs, and ears of searchers, there is great incentive for constant improvement and innovation.

To leverage the power contained within this targeted traffic source, marketers must understand how to effectively use both paid and organic SEM and have realistic expectations about what they can expect each methodology to achieve.